As Velux 5* Approved Installers we are the go to guys for your roof window or sun tunnel installation (of any brand), we have years of experience in roof windows and sun tunnels which was recognised by Velux and we were given their seal of approval.
This is extra peace of mind for you should you need new or replacement windows. Your windows will not only look fab but your roof will be correctly adapted to accommodate it and we can even take care of any plaster work which may be required on the internal side of things.
Do you have an area in you home that lacks light?
A sun tunnel could be just the answer to you problem. Not sure if it would be right for you, get in touch and I will pop round and take a look.
This is a Velux Conservation Window we installed to comply with Heritage Building Regulations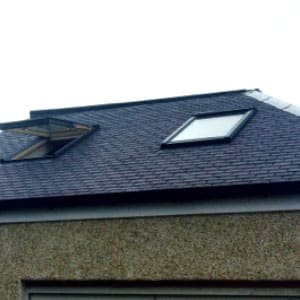 The open window is a Velux Fire Escape window which was installed to comply with building regulations, the other is a Velux Tilt and Turn model.